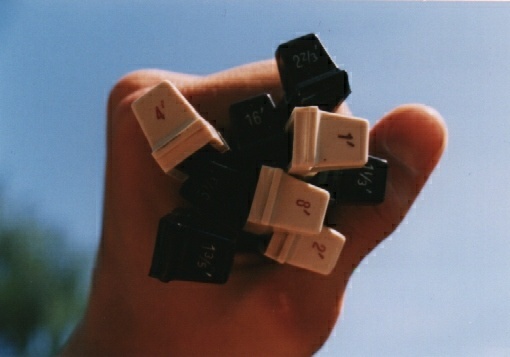 Images and Information About Hammonds, New and Old
The Theatre Organ Home Page is Sponsored by:
Consider placing a Vintage Hammond Organ in your Church or Home from Vintage Hammond Church Organs, Houston, Texas:



Click on logo to go see the Hammonds
The Hammond Organ Story- Biography of Laurens Hammond
The Hammond Organ Company 25th Anniversary History of Hammond

Hammond Organ Club of the Netherlands

Michael Cull has come out of retirement to present an online virtual reality organ concert on the Hammond A-100- Many great old numbers on the Hammond

Ethel Smith: Weird Organ Lady or Mondo Organista?

Leslie Speakers and Hammond Organs RUMORS, MYTHS, FACTS AND LORE Researched and compiled by Harvey Olsen

'Uncle Harvey's guide to Leslie pin-outs' - Lots of Schematics and Hammond Info

Some Pictures of the Hammond Novachord
---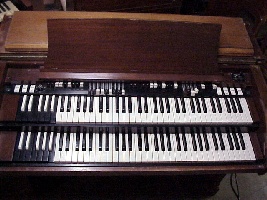 See this Hammond C-3G model, originally sold to the Army in Turkey in the 1950's

Keyboards of the C-3G. There is a small speaker and internal monitor in the C-3G

Laurens Hammond at the Model A

Photo Scanned by B3Organs@aol.com
Can you Identify this Hammond played by Robin Richmond?
The picture of Robin Richmond is of a UK modified Hammond done by the then UK importers Boosey and Hawkes these were sold as "La-Fleur" so as not to lower the tone of Hammond in the classic market at the time!
--- Thanks to-micky1@home.net
---
HAMMOND ORGAN ADDITIVE SYNTHESIS - A NEW METHOD of drawbar calculations by Paul Schnellbecher
Tim Wick's Hammond Drawbar WaveShape Simulator
Crazy Jan's Home Page from Germany
Hammond Organ Historical Society International
---
Check this out:

Keyboard Presents the Hammond Organ : Beauty in the B by Mark Vail
List Price: $24.95
Our Price: $19.96
You Save: $4.99 (20%)
I could not find anything negative and I could hear the B-3
playing while reading the book - jfrancis@tbaytel.net (Canada)
I hate to be the one that said I told you so, but this book is the real thing.
It is the Hammond/Leslie bible - garyc@cyburban.com (New York)
---

Now Available Online

Kickin' The 3: The Best Of Organ Trio Jazz -- Mcgriff, et al; Audio CD

List Price: $16.97
Our Price: $12.99
You Save: $3.98
---
Visit the Scott Hawthorn, aka "Scott the Organ Freak" Home Page -
Contains never-before-heard private tapes of Groove Holmes and Jack McDuff
Joost Visser's Dutch Hammond Organ Site
Much Ado About Drawbars by Janet Dowsett,Organ Times Article Dec/Jan/98
Rules for Collecting/Restoring Hammonds
The Hammond XB-2 Technical Information Exchange
Updated Jan 1998 by Dave Fisher ~ jazzizjazz@geocities.com

---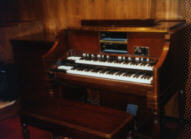 Here is an interesting Hammond....An Aeolean/Hammond Player Organ.
---
Do you have an interesting Hammond? We would love to end up with a picture of every model of Hammond online. If you have a picture of yours, send it in!
---
How about a genuine factory Hammond that weighs only 4 lbs?
---
Looky Looky Here! What We Found on Amazon.com
A Must Have video in any Hammond Collection!!!


Bathing Beauty, 1944, Red Skelton , Esther Williams , and Ethel Smith . Ethel plays the Hammond a couple of times in this one. Including Tico Tico.
---

The Hammond Colonnade
---

And here is a classic G-100 Hammond Church Organ
---
Also Found on Amazon.Com


Ed Wood, 1994 Starring: Johnny Depp. A party scene features Korla Pandit, of all people, playing the Hammond, just like he did on TV in the fifties, when the film was set.
---
Here is a Hammond Wall Clock from days of old.
Courtesy of B3Organs@aol.com
---
The KRLD Radio, Dallas, Texas Studio Hammond 1939 model Hammond A/V. It was the studio organ for KRLD radio in Dallas Tx. In the 40s. Really growls. By the way, serial number on my A/V is 985. Data plate also mentions manufactured by the Hammond Clock Co for experimental purposes only. -HAMMONDEGG@aol.com
---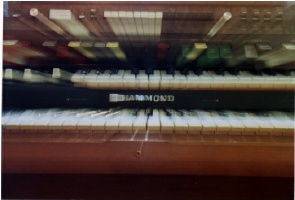 Pages from the Past
Some pages scanned from an old Hammond Organ Catalog. Pages scanned by and courtesy of Dave Bradley
The Cover
About Hammond
Hammond- The Standard of Comparison
Drawbar and Tonewheel System
Other Reasons to buy a Hammond
The L-100 Series
Other L Models
The M-100 Series
Other M Models
The A-100 Series
Other A Models
A C-3 to Lust After
A B-3 to Lust After
D-100 and RT-3
Tone Cabinets and Reverb
The Hammond Chord Organ S-100
Decorating Tips
Hammonds are Everywhere
The Hammond Grand 100
Music's Most Glorious Voice


1964 Article in Hammond Times by Jimmy Smith About the Hammond
Vintage Organs:
---
Jan Bietzig of Essen Germany sent these pictures of his Hammonds: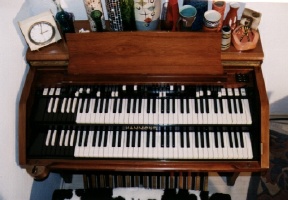 Jan's C3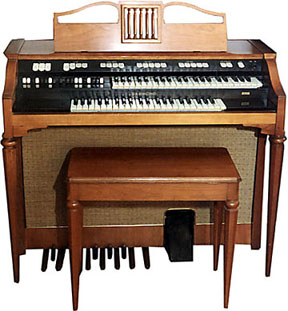 Jan's M100
---
Then, these shots are by John Ledwon of an A and a BC console-notice the lone white drawbar on the far right side above the stop/run switches. This controlled mixing of the two tone generators.
Photos of a friends A model Hammond. This Hammond has a serial number of something in the 800s so it is among the first thousand Hammonds ever produced.
---
More Pictures -- some bum playing a Hammond CV:
paul_schimmel@hotmail.com sent this one of his T-500 Hammond
pkinsman@ozfm.com sent this one of his RT-2 This RT-2 started life in a radio station in 1953 and came to him in the 1990's. Came complete with a VT122.
Great Closeup Photo of an RT-2 Hammond

Here are some pictures of Mike Sweeney's Hammond F-100. He received it in 1966 but it had been in a chapel for some time. This is all that is known about it .
Front of the Hammond F-100
BackFront of the Hammond F-100
Name Plate of the Hammond F-100
Other Hammond Places
Vintage Hammond Hire of Scotland
Determine your Hammond's Age with this handy information
Useful Tidbits related to the Hammond: Hammond Organ Information by Bruce Wahler
here are some other great HAMMOND pix on J-P Palmulaakso's Home Page Hammond-Leslie FAQ
HAMMOND PAGE! Hammond Organ Lovers Links from the Theatre Organ Page
Goff Proffessional - For all you Hammond Needs
Maryland Organ Service - Hammond Parts
Cool Hammond Page - by J-P Palmullaakso
Olaf's Hammond Page
Chopped Leslie
Dream of Owning a B-3 Fulfilled
Hammond Forum Mailing List
Hammond Technical Mailing List Archives and Subscription Information One of the Best Technical lists on the net.
The BTOC (B-3 Organ Company) Home Page